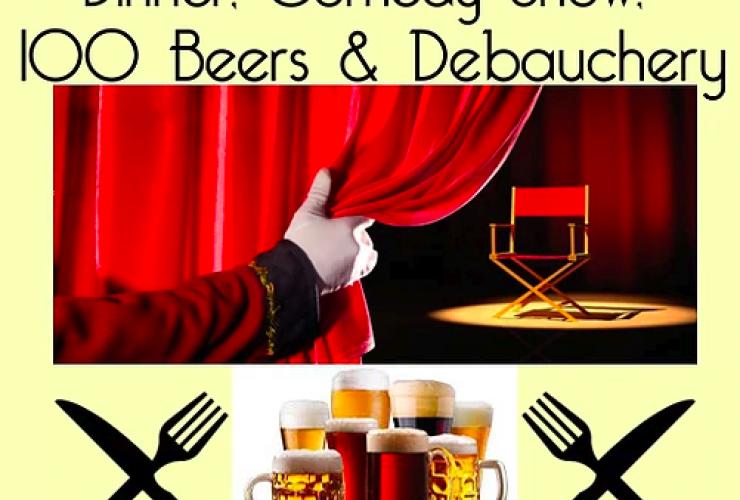 Thai Dinner + Comedy Show + 100 Beer Bar & Clubbing
Meeting Place:
Noodle Bar and Grill- 629 Broadway St
Eventually a holiday has to end, but one of the best parts about living in San Francisco is the opportunity to constantly surround yourself with travelers. So at least it doesn't have to feel like it! And this Thursday we have the perfect opportunity for our locals and our travelers to mix together. Not just with one activity, but three. Four if you count debauchery. Come join us for the Thursday weekly SF international event of dinner, a comedy show, and clubbing. Plus a stop at a bar with over 100 beers to choose from and games like skeeball. This is a perfect night for any and all hostel guests, backpackers, international travelers, students au pairs, interns, J1 visa holders, and of course our friendly locals. We know travelers are on a budget, and if you're paying rent in SF you're probably broke too, so we're here to help. Cost is only $15 which includes dinner, tax, tip, comedy show (usually $15!) and club entry (usually $20!). An RSVP is *required* at: www.sfhostelparty.com. Photo also courtesy of https://www.sfhostelparty.com/ Notes from the organizers: The Dinner & Comedy show is all ages. If you're planning to come to the club and bars, be sure to bring your ID that shows you are 21+. If you have an out of country ID, it is best to bring a passport. Also ***BE SURE TO READ THE CLUB DRESS CODE BELOW!!*** RSVP is *required*. You *must* meet us at the restaurant between 8PM and 8:15PM if you're planning to attend. Do NOT try to meet up with us after 8:15PM or you will be turned away. $11.75 + $3.25 tax/tip includes nightclub entry, entry to Comedy Show, and your choice of one of 7 Thai entrees listed below (tax & tip are included). Plus they offer drink discounts at the restaurant for our group. Choice of Entrees: Pad Thai (Chicken or Vegetarian), Sweet Basil (Chicken or Vegetarian), Yellow Curry (Chicken or Vegetarian) with Rice, 5 Spice Chicken with Garlic Noodles. As this will be a large group, the food items have been pre-organized - so there are NO ADDITIONAL FOOD SUBSTITUTIONS. Club Dress Code: Guys - Collared shirt, dress shoes, no baggy clothes, no sagging pants, and no athletic wear, no shorts. They are usually flexible with our group and allow t-shirts as well - just nothing too crazy. Shoes like vans/chucks (plain shoes) are also okay - just not Jordan's or similar. Plain shirts like V necks are also okay, just no graphic shirts. Girls - No sandals or flip flops.